Health is Wealth. Everyone wants to be healthy thus they engage in different forms of sports or exercises. Qigong practice is unique as it is suitable for any health condition, can be practiced anywhere and without any equipment.
Qigong can be traced back more than 6000 years; it was mainly for alleviating health condition. From the accumulated past experience of the practitioners, they noticed that they were able to overcome different health challenges by practicing specific movements (known as Dao Yin), Breathing (known as Tu Na), Visualisation (known as Yi) and Sounds. This is known as Qigong Self-healing Techniques.
When the practitioner attained higher level, he/she is able to help others to overcome health challenges by influencing their Qi circulation. This is known as Qigong Treatment Techniques.
WMQ Medical Qigong system consist; Self-healing Techniques and Treatment Techniques.
The Training Roadmap is as below: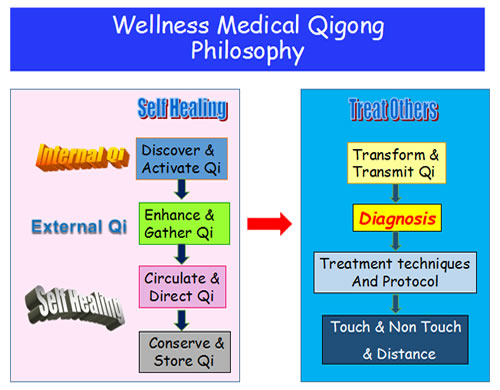 The above training consists of six modules:
Qigong Essentials (QGE)
Self-healing Techniques (SHT)
Treatment Techniques Part 1 (TT1)
Treatment Techniques Part 2 (TT2)
Treatment Techniques Part 3 (TT3)
Treatment Techniques Part 4 (TT4)
Those who are only interested to maintain and improve their own health need only to attend the Qigong Essentials and Self-healing Techniques.
For those who would like to help others may choose to complete the Treatment Techniques Part 1 – 4 after complete the Qigong Essentials and Self-healing Techniques courses.
To be certified as WMQ Practitioners, in additional to have attended and completed all the above courses, the participants would also be required to do case studies mentor by experience coaches. In Malaysia, Certified Practitioners after fulfil the required years of experience can apply for Government certification. Currently, there are many WMQ Practitioners in public hospital, government polyclinic, private wellness centre and clinic, etc.
Grand Master Tan Soo Kong and Master Connie Lee personally conduct the above courses and you can refers to the Training Schedule and enroll into the Qigong Essentials course. There are limited seats available for each course and we recommend you to sign up soonest.
The Qigong Essentials course will build your Qigong foundation. It covers various standing, lying and sitting exercises incorporating Comprehensive Qigong Breathing techniques. As Grand Master Tan conducts the above courses in many countries, thus the course fee varies according to training location, please indicate the training country/location you wish to attend when you submit your reservation.
Click here to check on our latest training schedule.
All trainings are conducted in English and seats are limited.
Please email mastertan.wmq@gmail.com, or fill up the form below to book your place in advance and we would contact you for any updates.